Available Now!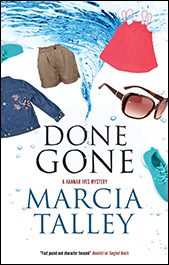 Hannah Ives is worried when her friends and long-time neighbours, Peter and Trish Young, are a surprising no-show at her Italian night. The couple seem to have vanished without a trace. Have they made a quick getaway and 'done gone'?
As she struggles to make sense of the Youngs' disappearance, Hannah gets a call from Trish. But when she meets up with her heavily disguised friend, their reunion takes a devastating twist. Keen to help Trish, Hannah's investigations lead her to a series of dark discoveries and secrets involving powerful political figures. With stakes getting higher and her own life on the line, can Hannah survive her journey into Trish's past long enough to find out who wants to keep Trish quiet, and why?
Severn House
ISBN: 978-0727890221
Buy it: Amazon.co.uk | Amazon | Barnes & Noble | Bookshop.org
Booklist writes:
"The smart, principled main character, along with the richly described Annapolis, MD, setting and the warm family relationships at the heart of the story, are the main sources of appeal here."
Publishers Weekly says:
"Talley keeps the action humming. Readers will wish [Hannah] a long career."
Also Available!

Hannah Ives's sister, Georgina, has some astonishing news. A DNA test has revealed she is part Native American, and Hannah's test has similar results. The link seems to come from their late mother. But how?
As Hannah dives into constructing her family tree, she uncovers a heart-breaking love story and a mysterious death, while DNA matching turns up two second cousins, Mai and Nicholas. Hannah and her niece, Julie, are eager to embrace their new relatives and learn about their surprising ancestry, but Georgina's husband, Scott, isn't so keen… Are more revelations about to come to light? And can Hannah untangle her family roots to unearth the truth behind a devastating tragedy?
Booklist raves:
"Talley continues to captivate readers in this … engaging story of family history and identity. Fast paced and character focused … sure to please the author's readership."
BOLO Books says:
"Tapping into society's current obsession with tracing lineage via DNA analysis, Marcia Talley releases another satisfying entry in her Hannah Ives series. The murder mystery in the novel hits close to home for Hannah, but honestly, it's the detailed information about DNA that proves the most compelling element here. That larger concept is cleverly used by Talley to give the multiple threads within Twisted Roots a unifying theme."
Publishers Weekly writes:
"Those who have grown fond of Hannah will be content with this latest update."
Severn House
ISBN: 978-0727888822
Buy it: Amazon.co.uk | Amazon | Barnes & Noble | IndieBound
A new short story in Malice Domestic 12: Murder Most Historical!
"Night and Fog" – by Marcia Talley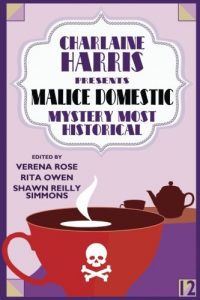 Order here!
Photos in banner by Ron Belanger.