Available now !!!
It's a fact that some of the cancer support group survivors Hannah Ives works with take marijuana. Recreational use of the drug may be illegal in Maryland, but a few patients, like Maryland State Senator Claire Thompson, are prescribed it on medical grounds.
Claire has co-sponsored a Cannabis Legalisation Bill and invites Hannah to be part of a fact-finding task force that testifies before the Maryland State Senate.
Before long, Hannah is in Denver, Colorado—the Mile High City—staying at a B&B with a group of pot pilgrims and medical refugees. But when one of the group is found dead, and a closer inspection of the body reveals the victim had been traveling under a false identity, Hannah is plunged into a dangerous cocktail of deception, drugs and death.
Severn House
ISBN: 978-0727887689
Buy it: Amazon.co.uk | Amazon | Barnes & Noble | IndieBound
The Reviews are Coming In!
Publishers Weekly raves:
"In Talley's witty, well-constructed 16th Hannah Ives mystery (after 2016's Footprints to Murder), Hannah, a breast cancer survivor and facilitator of a cancer support group in Annapolis, Md., is contacted by Claire Thompson, a Maryland state senator who's been using marijuana for medical purposes. Claire offers Hannah a role in a small fact-finding task force studying the feasibility of legalizing the sale and farming of marijuana in the state. As a first step, the two women travel to Denver, Colo., the mecca of marijuana tourism in America. Safely ensconced in Bell House, their elegant B&B, they are ready for a full immersion into the recreational, medical, culinary, and economic benefits cannabis brings to the community, but when an unpopular guest is smothered in the B&B's solarium, Hannah turns sleuth and discovers that many of her fellow guests have disturbing secrets and private agendas. Fair-play clues lead to a surprising motive behind the murder. Talley takes the reader on a timely and illuminating trip into the often befuddling world of marijuana legislation."
Booklist agrees!
"As the … series approaches its twentieth anniversary, it's showing no signs of slowing down. Hannah, a breast-cancer survivor and amateur sleuth, takes a job researching the effects of marijuana usage for a Maryland state senator.  Her research takes her to Denver—not a bad perc—but when she arrives in Colorado and almost immediately plunges into a murder investigation, she kind of wishes she'd just stayed home. A woman who's seen darkness in her own life but who hasn't let it change who she is, Hannah is a sympathetic and likable protagonist, the kind of person we might like spending time with … [T]he mystery she solves here is a very entertaining one—very personal to Hannah, too—and its solution is both surprising and memorable."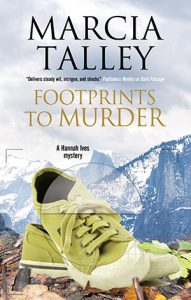 Hannah's Fifteenth Adventure
Hannah is delighted to reconnect with her former roommate, Susan Lockley, owner of Scarborough Fairs, at a college reunion, and agrees to step in when Susan's assistant drops out of managing the Sasquatch Sesquicentennial conference in Granite Falls, Oregon. But when one of the conference guests is found murdered, and gigantic footprints are discovered close to the body, the culprit appears, or was meant to appear, obvious: Bigfoot.
Fantasy or fact? As the conference disintegrates into chaos, it falls to Hannah to restore order. Working closely with Jake, a retired policeman and his K-9, Harley, Hannah soon realizes that, Bigfoot or no Bigfoot, there are a surprising number of conference attendees with motives to kill…
Severn House
ISBN: 978-0727886460
Buy it: Amazon.co.uk | Amazon | Barnes & Noble | IndieBound
Reviews are coming in!
A "well-plotted … entertaining entry."
—Publishers Weekly
"A West Coast convention for Bigfoot believers takes a hairy turn. … As Talley's 15th cozy reminds us once more, you can't take her genial heroine … anywhere without her stumbling into a different form of homicide."
—Kirkus
"This is my first Hannah book and I wondered why it took me so long to start this series. This well-written light drama pulled me in immediately, keeping me engaged."
—Dru's Book Musings
April 28, 2017 – Release date!
A new short story in Malice Domestic 12: Murder Most Historical!
"Night and Fog" – by Marcia Talley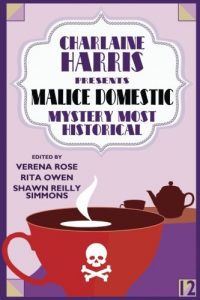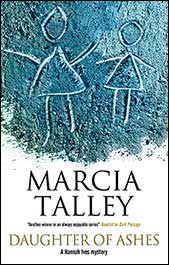 Hannah Ives has lost out on the cottage of her dreams thanks to an unscrupulous real estate agent, so she and her husband, Paul, buy a fixer-upper instead. But contractors restoring the chimney soon make a horrific discovery: the mummified body of an infant.
Hannah, already researching the history of her new home in the county archives, searches for clues as to the dead infant's identity, unaware that more shocking events lie just around the corner… Someone with money, influence or both is determined to stop her finding the information she desperately needs. Can Hannah solve the mystery before the evidence and over one hundred years of county history go up in smoke?
Severn House
ISBN: 978-0727884930
Buy it: Amazon | Barnes & Noble | Google Play | IndieBound | Kobo
Rave Reviews for Daughter of Ashes
"The books are full of joy and sadness, of brilliant light and terrifying shadow. Fans of the series will be well pleased, and readers who haven't met Hannah should do so promptly."
—Booklist
"… dark secrets from Maryland's past ooze out [in] this tale of love, greed, racism, politics, and power. Fascinating information on how to search historical records is a bonus."
—Publishers Weekly
"Marcia Talley's Hannah Ives series has always been an under-the-radar gem. She continues to mine this character for new depths with each new novel."
—Bolo Books
Photos in banner by Ron Belanger.