Now Available
Hannah is delighted to reconnect with her former roommate, Susan Lockley, owner of Scarborough Fairs, at a college reunion, and agrees to step in when Susan's assistant drops out of managing the Sasquatch Sesquicentennial conference in Granite Falls, Oregon. But when one of the conference guests is found murdered, and gigantic footprints are discovered close to the body, the culprit appears, or was meant to appear, obvious: Bigfoot.
Fantasy or fact? As the conference disintegrates into chaos, it falls to Hannah to restore order. Working closely with Jake, a retired policeman and his K-9, Harley, Hannah soon realizes that, Bigfoot or no Bigfoot, there are a surprising number of conference attendees with motives to kill…
Severn House
ISBN: 978-0727886460
Buy it: Amazon.co.uk | Amazon | Barnes & Noble | IndieBound
Reviews are coming in!
A "well-plotted … entertaining entry."
—Publishers Weekly

"A West Coast convention for Bigfoot believers takes a hairy turn. … As Talley's 15th cozy reminds us once more, you can't take her genial heroine … anywhere without her stumbling into a different form of homicide."
—Kirkus
"This is my first Hannah book and I wondered why it took me so long to start this series. This well-written light drama pulled me in immediately, keeping me engaged."
—Dru's Book Musings
April 28, 2017 – Release date!
A new short story in Malice Domestic 12: Murder Most Historical!
"Night and Fog" – by Marcia Talley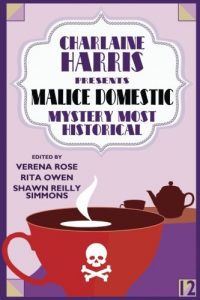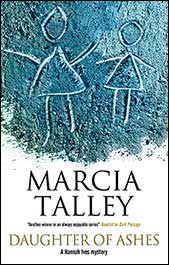 Hannah Ives has lost out on the cottage of her dreams thanks to an unscrupulous real estate agent, so she and her husband, Paul, buy a fixer-upper instead. But contractors restoring the chimney soon make a horrific discovery: the mummified body of an infant.
Hannah, already researching the history of her new home in the county archives, searches for clues as to the dead infant's identity, unaware that more shocking events lie just around the corner… Someone with money, influence or both is determined to stop her finding the information she desperately needs. Can Hannah solve the mystery before the evidence and over one hundred years of county history go up in smoke?
Severn House
ISBN: 978-0727884930
Buy it: Amazon | Barnes & Noble | Google Play | IndieBound | Kobo
Rave Reviews for Daughter of Ashes
"The books are full of joy and sadness, of brilliant light and terrifying shadow. Fans of the series will be well pleased, and readers who haven't met Hannah should do so promptly."
—Booklist
"… dark secrets from Maryland's past ooze out [in] this tale of love, greed, racism, politics, and power. Fascinating information on how to search historical records is a bonus."
—Publishers Weekly
"Marcia Talley's Hannah Ives series has always been an under-the-radar gem. She continues to mine this character for new depths with each new novel."
—Bolo Books
Photos in banner by Ron Belanger.