Just Released!

Hannah Ives's sister, Georgina, has some astonishing news. A DNA test has revealed she is part Native American, and Hannah's test has similar results. The link seems to come from their late mother. But how?
As Hannah dives into constructing her family tree, she uncovers a heart-breaking love story and a mysterious death, while DNA matching turns up two second cousins, Mai and Nicholas. Hannah and her niece, Julie, are eager to embrace their new relatives and learn about their surprising ancestry, but Georgina's husband, Scott, isn't so keen… Are more revelations about to come to light? And can Hannah untangle her family roots to unearth the truth behind a devastating tragedy?
Booklist raves:
"Talley continues to captivate readers in this … engaging story of family history and identity. Fast paced and character focused … sure to please the author's readership."
BOLO Books says:
"Tapping into society's current obsession with tracing lineage via DNA analysis, Marcia Talley releases another satisfying entry in her Hannah Ives series. The murder mystery in the novel hits close to home for Hannah, but honestly, it's the detailed information about DNA that proves the most compelling element here. That larger concept is cleverly used by Talley to give the multiple threads within Twisted Roots a unifying theme."
Publishers Weekly writes:
"Those who have grown fond of Hannah will be content with this latest update."
Severn House
ISBN: 978-0727888822
Pre-order it: Amazon.co.uk | Amazon | Barnes & Noble | IndieBound
Also Available!

It's a fact that some of the cancer support group survivors Hannah Ives works with take marijuana. Recreational use of the drug may be illegal in Maryland, but a few patients, like Maryland State Senator Claire Thompson, are prescribed it on medical grounds.
Claire has co-sponsored a Cannabis Legalisation Bill and invites Hannah to be part of a fact-finding task force that testifies before the Maryland State Senate.
Before long, Hannah is in Denver, Colorado—the Mile High City—staying at a B&B with a group of pot pilgrims and medical refugees. But when one of the group is found dead, and a closer inspection of the body reveals the victim had been traveling under a false identity, Hannah is plunged into a dangerous cocktail of deception, drugs and death.
Severn House
ISBN: 978-0727887689
Buy it: Amazon.co.uk | Amazon | Barnes & Noble | IndieBound
Publishers Weekly raves:
"In Talley's witty, well-constructed 16th Hannah Ives mystery (after 2016's Footprints to Murder), Hannah, a breast cancer survivor and facilitator of a cancer support group in Annapolis, Md., is contacted by Claire Thompson, a Maryland state senator who's been using marijuana for medical purposes. Claire offers Hannah a role in a small fact-finding task force studying the feasibility of legalizing the sale and farming of marijuana in the state. As a first step, the two women travel to Denver, Colo., the mecca of marijuana tourism in America. Safely ensconced in Bell House, their elegant B&B, they are ready for a full immersion into the recreational, medical, culinary, and economic benefits cannabis brings to the community, but when an unpopular guest is smothered in the B&B's solarium, Hannah turns sleuth and discovers that many of her fellow guests have disturbing secrets and private agendas. Fair-play clues lead to a surprising motive behind the murder. Talley takes the reader on a timely and illuminating trip into the often befuddling world of marijuana legislation."
Booklist agrees!
"As the … series approaches its twentieth anniversary, it's showing no signs of slowing down. Hannah, a breast-cancer survivor and amateur sleuth, takes a job researching the effects of marijuana usage for a Maryland state senator.  Her research takes her to Denver—not a bad perc—but when she arrives in Colorado and almost immediately plunges into a murder investigation, she kind of wishes she'd just stayed home. A woman who's seen darkness in her own life but who hasn't let it change who she is, Hannah is a sympathetic and likable protagonist, the kind of person we might like spending time with … [T]he mystery she solves here is a very entertaining one—very personal to Hannah, too—and its solution is both surprising and memorable."
A new short story in Malice Domestic 12: Murder Most Historical!
"Night and Fog" – by Marcia Talley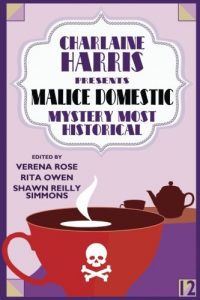 Order here!
Photos in banner by Ron Belanger.