Coming in November: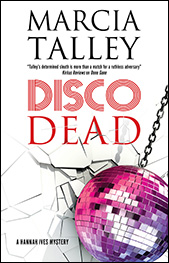 Hannah Ives enjoys her expeditions to local cemeteries to help people find their ancestors. On one such visit, Hannah is surprised when she encounters Isabel 'Izzy' Randall laying flowers on the grave of Amy Madison, a college senior who was killed in 1978. Amy was last seen in a popular Annapolis disco bar, and her murder remains unsolved.
Hannah's interest in the case leads her to join Silent Sleuths, a small group of 'citizen detectives' dedicated to solving cases like Amy's, and their research soon suggests that Amy may have been the first of several victims targeted by a serial killer. DNA from the scene of Amy's murder reveals surprising results, which steers the group's investigation in an unexpected direction. Is Amy's killer still alive, or gone beyond the reach of justice?
Severn House
ISBN: 978-1448307951
Buy it: Amazon.co.uk | Amazon | Barnes & Noble  | Bookshop.org
Publishers Weekly writes:
"A 1978 murder … drives Talley's satisfying 19th mystery. [Readers] will appreciate that the characters rely on brains rather than brawn. This intelligent mystery series deserves a long run."
Kirkus Reviews says:
"The telling details that urge readers along the way might even end up teaching them something."
Available Now!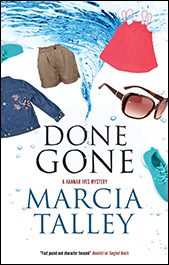 Hannah Ives is worried when her friends and long-time neighbours, Peter and Trish Young, are a surprising no-show at her Italian night. The couple seem to have vanished without a trace. Have they made a quick getaway and 'done gone'?
As she struggles to make sense of the Youngs' disappearance, Hannah gets a call from Trish. But when she meets up with her heavily disguised friend, their reunion takes a devastating twist. Keen to help Trish, Hannah's investigations lead her to a series of dark discoveries and secrets involving powerful political figures. With stakes getting higher and her own life on the line, can Hannah survive her journey into Trish's past long enough to find out who wants to keep Trish quiet, and why?
Severn House
ISBN: 978-0727890221
Buy it: Amazon.co.uk | Amazon | Barnes & Noble | Bookshop.org
Booklist writes:
"The smart, principled main character, along with the richly described Annapolis, MD, setting and the warm family relationships at the heart of the story, are the main sources of appeal here."
Publishers Weekly says:
"Talley keeps the action humming. Readers will wish [Hannah] a long career."
Photos in banner by Ron Belanger.