Coming March 5, 2024!
Book #20 in the Hannah Ives mystery series.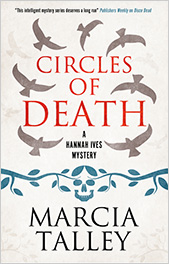 Hannah Ives and her husband are staying at their idyllic vacation cottage on Maryland's eastern shore, when a young friend, Noel Sinclair, stops by for a visit. As Hannah shows Noel around the property, they notice some bald eagles in a neighboring cornfield who look seriously ill.
Could these magnificent birds have been poisoned? Hannah's investigation soon clashes with powerful commercial agricultural interests. Meanwhile, Noel uncovers some shocking news of her own when she and her sister receive the results of their DNA tests. As Hannah tries to discover who is tormenting the birds while delving into Noel's family tree, the last thing she expects is a deadly connection between the two…
Severn House
ISBN: 978-1-4483-0797-5
Kirkus says: "Two mysteries plotted with an eye for the details of both subjects set this series apart."
Read the full review here.
Still Available!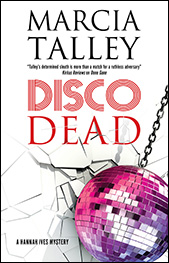 Hannah Ives enjoys her expeditions to local cemeteries to help people find their ancestors. On one such visit, Hannah is surprised when she encounters Isabel 'Izzy' Randall laying flowers on the grave of Amy Madison, a college senior who was killed in 1978. Amy was last seen in a popular Annapolis disco bar, and her murder remains unsolved.
Hannah's interest in the case leads her to join Silent Sleuths, a small group of 'citizen detectives' dedicated to solving cases like Amy's, and their research soon suggests that Amy may have been the first of several victims targeted by a serial killer. DNA from the scene of Amy's murder reveals surprising results, which steers the group's investigation in an unexpected direction. Is Amy's killer still alive, or gone beyond the reach of justice?
Severn House
ISBN: 978-1448307951
Buy it: Amazon.co.uk | Amazon | Barnes & Noble  | Bookshop.org
Publishers Weekly writes:
"A 1978 murder … drives Talley's satisfying 19th mystery. [Readers] will appreciate that the characters rely on brains rather than brawn. This intelligent mystery series deserves a long run."
Kirkus Reviews says:
"The telling details that urge readers along the way might even end up teaching them something."
And check out this rave review in Booklist:
"The long-running Hannah Ives Mystery series shows no signs of slowing down. In this nineteenth entry since 1999's Sing It to Her Bones, the cancer survivor and amateur sleuth digs into a decades-old murder case and unearths some modern-day surprises. As good as the puzzles in this series are, most readers probably don't come to the Ives books for the mysteries—they come for the characters. Hannah is a perfectly drawn lead, a part-time crime solver who must juggle friends, family, and serious medical issues, along with all manner of everyday concerns. She may be an amateur sleuth, but she lives very much in the real world. As always, she's surrounded here by a delightful cast of supporting players, including the members of the Silent Sleuths, a colorful group of amateur detectives with whom Hannah happily joins forces. Some long-running series have their ups and downs, but the Ives series has been remarkably consistent."—David Pitt