Read an interview with Marcia from the MWA-MA newsletter!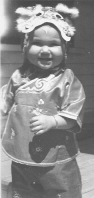 Marcia Talley was born in Cleveland, Ohio, but spent the first eighteen years of her life bouncing about the planet—from Ohio to California, China, New York, Virginia, Kansas and Taiwan (sometimes more than once)—as the eldest of five daughters of a career Marine officer.
(Marcia with mask, left.)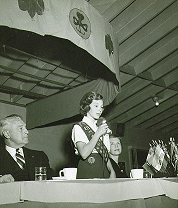 "I started out in Brownies and continued to be active in scouting through high school. Here I am giving a speech—I was scared spitless—but I can still remember how it began: 'Juliet Gordon Low was born in Savannah, Georgia, in 1860. Her friends called her Daisy…'"
Back in Ohio at last, she received her BA from Oberlin College where she met her future husband, Barry, in a campus dining hall. After graduation, the couple moved to Baltimore, where Marcia taught 6th grade and Barry earned his doctorate in music.
Below: Marcia Dutton's and Barry Talley's senior pictures, Oberlin College. "I met Barry at Oberlin, where we were working our way through college washing dishes. Here we are, circa 1964. Don't laugh! Those black-rimmed glasses were obligatory, as I recall…. Ditto my hair, which I used to set using orange juice cans. If it STILL wasn't straight enough, I'd iron it."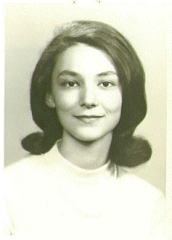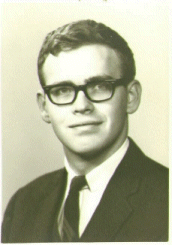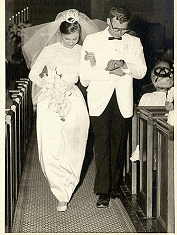 Date: September 5, 1964. "Although it looks like Barry is in a big hurry to start the honeymoon, he'd actually whacked his watch, the one I had given him as a wedding gift, on the first pew. He was checking to see if he'd damaged the crystal. He had."
In 1971 they settled in scenic, historic Annapolis when Barry was appointed Director of Musical Activities at the Naval Academy. Marcia accepted a job at St. John's College (the famous Great Books school) and earned her M.L.S. from the University of Maryland. Fifteen years followed—the obligatory superwoman period—working in Washington, DC and raising a family. Marcia was administrative librarian for TeleSec Library Services, then Head of Technical Services for the American Bankers Association and finally Head of Library Systems Support at the US General Accounting Office before she abandoned the grueling one-hour-each-way commute to manage the computers at the US Naval Academy Library.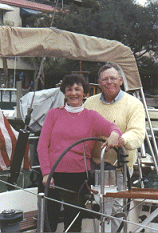 In December 1999 she took an early retirement from Federal service to accompany her husband on a six-month sabbatical, living on a 37-foot sailboat and sailing down the Intercoastal Waterway from Annapolis to the Bahamas and back. She has two grown daughters—Laura, an attorney in Washington, DC and Sarah, a social media coordinator living in Lyme, NH and six grandchildren.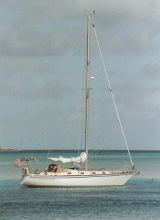 Marcia and Barry on sabbatical. "We sailed Troubadour from Annapolis down the Intercoastal Waterway to Ft. Lauderdale, then across the Gulf Stream to the Bahamas, where we lived aboard from January to July 2000." Right: Troubadour, Wardrick Wells, Exuma Cays, Bahamas, March 2000
In recent years, Marcia and her husband spend a portion of each year wintering in Hope Town on Elbow Cay, a barrier island in Abacos, Bahamas where they bought a cozy Loyalist cottage named "SeaLeggs."  The Abacos is also the setting for Marcia's eighth Hannah adventure, Without a Grave.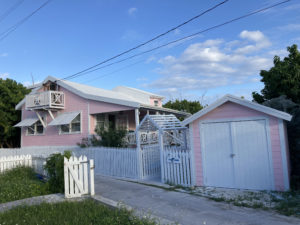 Barry and Marcia Talley in New Zealand. From Marcia: "This is a picture of Barry and me in New Zealand, at the Wai-o-Tapu Thermal Wonderland, sitting in front of one of the acid pools. It's truly an amazing place."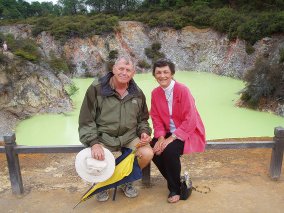 Read about their trip in MARCIA'S BLOG:"MYSTERY-MINDED"
Read more about Marcia:
Picture gallery: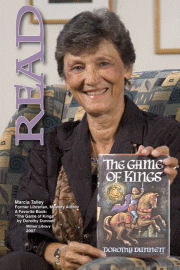 Read Poster, Illinois State University Milner Library. "Marcia Talley, Former Librarian, Mystery Author. A Favorite Book: The Game of Kings by Dorothy Dunnett. Milner Library 2007." Photograph by Brian Braye.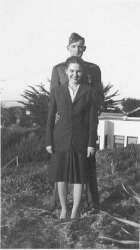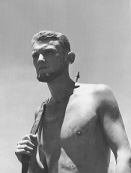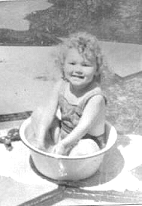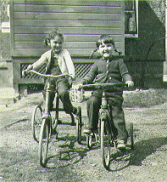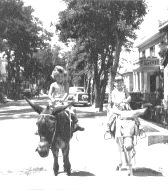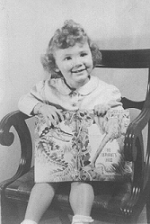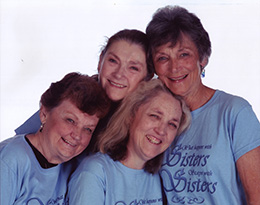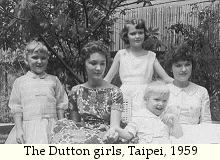 Left to right: Debbie, Marcia, Alison, Katie and Susan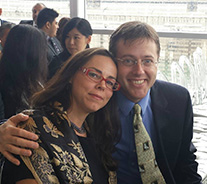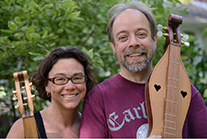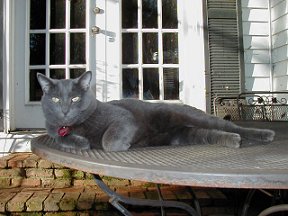 Photos in banner:
"Marcia Talley: Martha's Vineyard" by Ron Belanger.
"Annapolis Marina 2" by Ad Meskens – Own work. Licensed under CC BY-SA 3.0 via Wikimedia Commons.