Sisters in Crime, Toronto
Thursday, June 20, 2019
7 – 9 pm.
Toronto Public Library
"Mind of a Mystery Writer"
A Talk sponsored by
Sisters in Crime National Speakers Bureau
Info: Kate Freiman, katefreiman@rogers.com


Open to the public.  $5 for non-members.
For directions click here.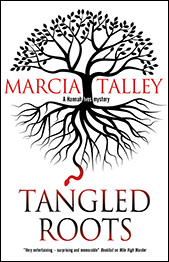 Come help launch the U.S. Edition of
TANGLED ROOTS !
Mystery Loves Company
Oxford, MD
Sunday, July 7, 2019
11:30 – 2:30
For more information, click here.
SUFFOLK MYSTERY AUTHORS FESTIVAL
Saturday, August 10, 2019
1 – 6 p.m.
For complete schedule, click here.