Originally published in the MWA-MA March/April 2021 Newsletter
By Harley Mazuk
We hope you met Marcia Talley, our new Mid-Atlantic Chapter President at the Town Hall Zoom in February. She's the award-winning author of eighteen mystery novels, and you can learn plenty about Marcia and her work on her website. For our interview here, I tried to ask her some things you might not find there.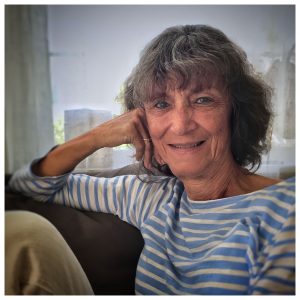 MWA-MA: Marcia, let's get started with a question about your education. How did a liberal arts education prepare you for your career as a writer?
Marcia Talley: Did it? I'm not convinced. I took the required English 101 "just to get it out of the way" but haven't thought about that course since. At Oberlin College, I minored in French, my first exposure to the great novels of Flaubert, Proust and Stendhal and to the poetry of Baudelaire. I was particularly taken with Stendhal and still enjoy reading novels in French. If I'm on a long flight and don't particularly feel like interacting with talkative seatmates, I whip out an Agatha Christie, like Un Cadavre dans la Bibliothèque or Mort sue le Nil, and pretend I don't speak English.
What are you currently reading? What books are on your nightstand?
Right now, I'm serving on the MWA panel tasked with reading the six novels that have been shortlisted for the Sue Grafton award. Next up on my Kindle after that is The Lost Man by Jane Harper, the Australian whose first novel, The Dry, blew me away.
What book changed your life? Or what book(s) most influenced your own writing?
It wasn't a book that changed my life. It was the two summers I spent at the Sewanee Writers Conference at the University of the South. When Tennessee Williams died in 1983, he left 8 million dollars to the university specifically to fund the conference, so they can afford to attract la crème de la crème to their faculty and still cover two-thirds of the cost for attendees. The second summer, my mentor was National Book Award winner John Casey. During our one-on-one manuscript session, he said, "When I read your first chapter, I knew I was in the hands of a born storyteller, but the rest of the novel is crap." Gulp!
The following summer, I took a course at St Hilda's College in Oxford, U.K. taught by Kate Charles and Susan Moody. "Making Crime Pay" was a real "ah-hah" experience for me, the moment I realized I probably should be writing what I most enjoyed reading: mysteries. When I got I home I joined a writers critique group (we've been meeting monthly since 1996) which helped perfect the novel which eventually won the Malice Domestic grant and was published by Bantam Dell as Sing It To Her Bones.
You're giving a literary dinner party. Which three writers, dead or alive, do you invite?
I love this question! Shirley Jackson, for sure, author of The Haunting of Hill House and We Have Always Lived in the Castle, even though she'd probably chain smoke at the dinner table and drink all the wine. She could hold her own against Patricia Highsmith—author of Strangers on a Train and The Talented Mr Ripley—who I understand once attended a London cocktail party carrying a gigantic handbag that contained a head of lettuce and a hundred snails which she said were her "companions for the evening." And finally, Sir Arthur Conan Doyle, because, well, Sherlock Holmes.
What book do you give as a gift, and why?
Over the years, I must have purchased more than a dozen of copies of Josephine Tey's Daughter of Time. To my mind, it's everything a mystery should be—a likeable protagonist, a cold case (one of the coldest ever: who murdered the Princes in the Tower?) and a history lesson, all wrapped into one thoroughly enjoyable page-turner.
As a gift for aspiring writers, you can't go wrong with Anne Lamott's Bird by Bird, Nat Goldberg's Writing Down the Bones or Stephen King's On Writing—maybe all three. I have either given these books away or recommended them to aspiring mystery writers.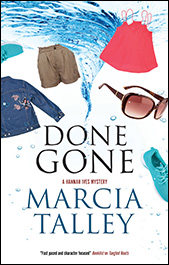 You have a new Hannah Ives mystery, Done Gone, out in the U.K. last month (Jan. 29) and coming to the U.S. in early April. Would you like to tell us about it?
It's several weeks before Thanksgiving. Hannah is worried when her friends and long-time neighbors, Peter and Trish Young, are a surprising no-show at her Italian night dinner. The couple seem to have vanished without a trace. Have they made a quick getaway and 'done gone'?
As she struggles to make sense of the Youngs' disappearance, Hannah gets a call from Trish. But when she meets up with her heavily disguised friend, their reunion takes a devastating twist. Keen to help Trish, Hannah's investigations lead her to a series of dark discoveries and secrets involving powerful political figures. With stakes getting higher and her own life on the line, can Hannah survive her journey into Trish's past long enough to find out who wants to keep Trish quiet, and why?
I counted 17 novels (plus Done Gone) in the Hannah Ives series. How does Hannah evolve in the stories?
When I wrote my first book, Sing It To Her Bones, I had no idea I was writing a series. At the end of that novel, we learn that Hannah has a grown daughter and is expecting her first grandchild. That was twenty-two years ago. Over the course of the next seventeen novels, Hannah gradually ages, emerging from successful breast cancer treatment and in the true spirit of carpe diem, gets on with her life. In each novel, Hannah has a different "sidekick": her artist sister-in-law, Connie; Nadine Gray, a retired best-selling mystery writer; her neighbor on pristine Hawksbill Cay, septuagenarian Molly Weston. And Occasion of Revenge finds her sleuthing with her ten-month-old granddaughter, Chloe, in a backpack! Hannah now has three grandchildren and Chloe is just starting college. If I knew all those years ago that I was writing a series, I would have made Hannah much younger!
Other than employing a recurring heroine, do your books follow any sort of formula or pattern?
Only insofar as they each revolve around a contemporary issue that I feel a need to explore. Unbreathed Memories, for example, dealt with "recovered memory" and the damaging impact a false diagnosis can have on a family. Dead Man Dancing is set in the fascinating world of competitive ballroom dancing. In Death's Shadow explores little-known (and creepy!) viatical settlements, and more recently, Tangled Roots finds Hannah, like a lot of us, sucked straight down the rabbit hole of genealogical research when her ancestry DNA test comes back with surprising results.
For what book would you most like to be remembered?
Gosh, that's a hard question to answer. It's like asking me to pick my favorite child. The truth is, I'm fond of them all for different reasons. Sing It To Her Bones because it was my first; Occasion of Revenge wherein I bump off the witch who married my father after my mother died; A Quiet Death because, at its heart, it's a poignant love story; and Without A Grave is my valentine to the Bahamas.
I see you have a master's degree in library science. Your predecessor as chapter president, Con Lehane, is doing a series about a librarian in the mystery department of the 42nd St. library in New York City. Are you familiar with any of Con's library novels?
I am. I've been a fan of Con's work since 2002 when Beware the Solitary Drinker first came out starring, not a librarian, but New York bartender Brian McNulty. Of Con's recent series, Murder in the Manuscript Room is a particular favorite. I once murdered an unpopular library director in the manuscript room of a library. That short story, "Safety First," was shortlisted for the Agatha award and was quite popular with my library colleagues at the time.
You served as National president of Sisters-in-Crime, 2009-2010. What sorts of successes did you have leading them that you might hope to replicate with or bring to the Mid-Atlantic chapter of MWA?
I believe that the key to success for any organization lies with its members. As president of Sisters in Crime, I was blessed with a board of capable, forward-thinking, energetic people who were good at identifying and solving problems. They both inspired and motivated members to volunteer. The Mid-Atlantic chapter is similarly blessed and I predict exciting things in the future. Watch this space!
What is a benefit of belonging to MWA that many members never heard or, or don't take advantage of?
Discounts! MWA members can save on books, magazine subscriptions such as Publishers Weekly and Writers Digest, health insurance and even travel and leisure activities. Check out MWA's Members Benefits page for details. Members might also be unaware of MWA's manuscript critique program. You can have 25 pages of your crime manuscript critiqued by a professional writer. The critique will be about 1,000 words and will cost $100, a bargain for a professional critique. Find details in the Members Only section of the MWA website.
Do you plan to run for re-election as president of the Mid-Atlantic chapter of MWA?
Hey, I've been on the job for only a month! Too soon to say. LOL.